Second international flute competition "Maxence Larrieu" 2011
The 2nd edition of this competition will happen from 20 th to 29 th October 2011 at the National Music College "Pierre Cochereau" in Nice.
This competition is now announced as one of the greatest flute competition in the world, just as the flute competitions of Kobe, München, Pekin, Geneva and Paris.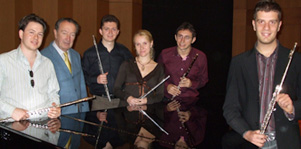 Maxence Larrieu and
the Graduates from the
first Larrieu competition.
from left to right
Loïc Schneider / France
Denis Bouriakov / Russia
Katalin Nagy / Hungary
Andrea Manco / Italy
Matteo Evangelisti / Italy